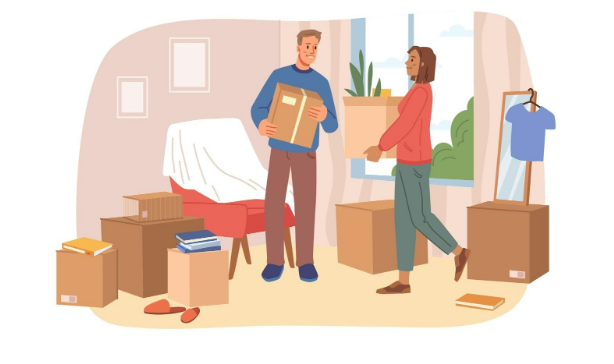 In a rapidly evolving world, we have become increasingly mindful of the decisions we make. We embrace the importance of thorough evaluation before committing to significant choices. Just as we try on clothes before purchasing, test drive cars, and read reviews before selecting movies or travel destinations, it is only natural that we consider living with our partners before making a substantial commitment. This proactive approach allows us to anticipate and address potential challenges that may arise when embarking on this significant step. Here, we explore practical ways to preempt and navigate some of the issues that may emerge during this transformative journey.
1. Talk about your finances
Moving in with your partner brings its share of challenges, particularly when it comes to financial obligations. It's crucial to have open discussions about your financial situation to ensure clarity and understanding. Failing to address these matters beforehand can lead to confusion and conflicts down the line.
Take the time to comprehend not only your financial capabilities but also those of your partner. This understanding will enable you both to make informed decisions. By engaging in a conversation about finances before moving in, you can proactively prevent potential disagreements and foster a harmonious living arrangement.
2. Take some me time
The initial phase of living with someone can be filled with novelty and excitement. Late-night conversations and shared Sunday morning breakfasts become part of the routine. However, it's vital to remember that even though you're in a relationship, your well-being should remain a priority.
Carving out time for yourself each week is crucial. Ensure you allocate moments solely for self-care and self-reflection. Whether it's indulging in a pampering session or finding a quiet corner to enjoy a book, engaging in activities you enjoyed while living alone is important. By maintaining these personal rituals, you prevent feelings of suffocation and preserve your individuality.
Remember, a healthy "us" requires a nurtured and fulfilled "you." By prioritizing self-care and maintaining your interests, you contribute to the strength and balance of the relationship.
3. Set ground rules and boundaries
Setting clear boundaries within your shared living space is essential for a successful and harmonious relationship when moving in together. While it may seem counterproductive to establish boundaries, it is crucial to avoid potential conflicts and maintain a healthy living dynamic.
Start by discussing household responsibilities such as chores and bill payments, but also address smaller, personal matters like respecting specific food items or preferences. Communicating your needs and expectations regarding wet towels on the floor, cleanliness, and disposal of trash helps maintain a clean and comfortable living environment. Establish guidelines for personal spaces, respecting each other's belongings, and guest policies to ensure mutual respect and privacy.
4. Keep a different circle of friends
While moving in with your partner means spending a significant amount of time together, it's important to maintain a sense of individuality and not become overly dependent on each other. Building a healthy circle of friends outside of your relationship can provide an outlet for personal time and support. Having friends with whom you can spend time without your partner allows you to vent or seek advice when small annoyances arise, like forgetting to pick up milk for the fifth time.
It's crucial to have a space of your own where you can freely express yourself and engage in activities that bring you joy outside of the relationship. Having diverse friendships and different social experiences can contribute positively to maintaining a healthy and balanced relationship with your partner. Remember, maintaining a sense of independence and cultivating relationships beyond your partnership can help ensure a fulfilling and well-rounded life.
5. Try Coliving Spaces
When you decide to live together, you would search for available rooms for rent, considering the financial aspect of sharing a space, which means a luxury stay, may not be within your budget. This is where co-living comes into place.
Coliving spaces are designed for individuals or groups to reside in a shared environment. These residential properties offer private bedrooms or small apartments, along with shared common areas like kitchens, living rooms, and sometimes workspaces. The concept of coliving has become increasingly popular as it addresses the evolving needs and preferences of individuals, especially young professionals, entrepreneurs, and digital nomads.
6. Communicate openly and honestly:
Effective communication plays a vital role in fostering a successful and thriving relationship. When you make the decision to move in together, the significance of open and honest communication becomes even more pronounced. It becomes essential to express your thoughts, concerns and needs openly with your cohabitant(s).
Living together can bring about new dynamics and challenges, as individuals with different habits, preferences, and routines merge their lives under one roof. To ensure a healthy and harmonious living environment, it is crucial to avoid allowing issues to simmer beneath the surface. Instead, it is important to address them promptly and respectfully.
By engaging in open and proactive communication, you create a space where both parties feel heard, valued, and understood. This means actively listening to your cohabitant(s) and seeking to understand their perspective. It involves expressing your own thoughts and feelings in a considerate manner, using "I" statements to express how certain situations or behaviors affect you personally. When conflicts or disagreements arise, strive to approach them with patience, empathy, and a willingness to find mutually beneficial resolutions.
7. Divide household chores:
Develop a household chore system that caters to both individuals, taking into account their respective strengths, preferences, and schedules. Reassess and modify the allocation of tasks periodically to maintain fairness and prevent negative feelings. If you and your partner are both breadwinners and find yourselves with limited time available, you may want to consider the option of co-living spaces.
Co-living spaces offer various advantages, such as eliminating the need to purchase furniture and including housekeeping services and other amenities as part of the rent. This arrangement allows you to enjoy activities like going out for tea and preparing your own meals, as the remaining chores have already been taken care of.
8. Compromise and be flexible:
Sharing a living space with someone necessitates compromise and flexibility. It's important to acknowledge that both you and your partner will have distinct habits, preferences, and approaches to various tasks. Embrace the mindset of seeking common ground and being receptive to adapting to each other's needs and routines. By fostering open communication and a willingness to accommodate one another, you can create a harmonious and cooperative living environment that respects both individuals' uniqueness.
9. Respect personal space and privacy:
Even though you're living together, it's important to respect each other's personal space and privacy. Designate areas in your home where each of you can have some alone time or pursue individual hobbies without interruptions. Can you opt for the Best pgs for a Hassle-free stay
10. Keep the romance alive:
Moving in together can sometimes lead to a shift in dynamics, with the focus shifting more toward practical aspects of daily life. Don't forget to prioritize your romantic relationship. Plan date nights, surprise each other with gestures of love and appreciation, and make an effort to keep the romance alive amidst the responsibilities of cohabitation.
So are you ready to get some conversations going and get those things packed?
Managing your finance is now made easier through technology. Here are a few tips on how to save money during traveling.