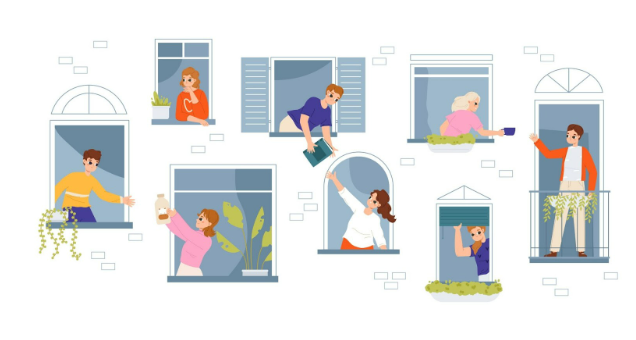 Coliving is a pretty new concept that has gained a lot of momentum in very little time mainly due to the demand from the millennial generation. Along with this fame, Coliving has also managed to carry a lot of misconceptions around it. There is always an air of doubt whenever something new comes up in the market. The same thing happened when the Coworking concept came into the picture, people were skeptical of it working and serving the need, but it turns out that Coworking is now a multi-billion dollar business. Here in this article, we will try to bust the most common myths around Coliving and make you familiar with the truth behind Coliving.
1. Coliving life means a life in Hostel or Dorm.
Coliving is indeed distinct from hostels and dorms, offering a higher standard of living and catering to a broader demographic. While hostels and dorms are typically associated with temporary or student accommodations, coliving spaces provide a more upscale and long-term living experience.
One of the key differentiators of coliving is the focus on community and social interaction. Coliving spaces are designed to foster a sense of belonging and connection among residents. They often offer common areas, shared facilities, and organized events or activities to encourage community engagement. This communal space aspect sets coliving apart from traditional hostels or dorms, which may not prioritize social interaction to the same extent. It's no wonder that you've been searching for "Find pg near me" or "Find co-live near me" online, as coliving has gained popularity among those seeking a modern and inclusive living solution.
2. Coliving is for Nomads and Hippies.
You are absolutely right that co-living spaces are not exclusively for hippies or nomads. While coliving does attract individuals who value community, social interaction, and a flexible lifestyle, it is not limited to any specific group of people in terms of backgrounds or beliefs.
Coliving spaces welcome a diverse range of residents, including professionals, entrepreneurs, remote workers, freelancers, students, and even families. The appeal of coliving extends beyond a particular stereotype or lifestyle choice. Many people are drawn to coliving for its benefits such as affordability, convenience, access to amenities, and the opportunity to connect with like-minded individuals.

3. Coliving means No Privacy.
Coliving spaces understand the importance of privacy for residents, even as they encourage social interaction through communal areas and shared facilities. While the focus is on creating a sense of community, coliving spaces also prioritize providing private rooms or apartments where residents can retreat to and enjoy their personal space.
These private rooms are designed to offer privacy and comfort stay, allowing residents to have their own sanctuary within the larger coliving community. They are typically equipped with essential amenities and can be personalized according to individual preferences. Residents have the freedom to decorate and arrange their rooms to create a space that feels like home.
The shared facilities in coliving spaces, such as common rooms, kitchens, and laundry rooms, are intended to foster a sense of community and provide opportunities for residents to interact and socialize. These spaces are designed to be inviting and comfortable, encouraging residents to come together and engage with one another. They serve as common gathering areas where residents can share meals, engage in conversations, or participate in activities.
However, coliving spaces recognize that privacy is equally important. Residents have the autonomy to choose when and how they engage with the community. They can enjoy their privacy within the comfort of their own rooms whenever they desire solitude or personal time. Coliving spaces understand the need for a balance between social interaction and personal privacy, allowing residents to have control over their living experience.
4. Coliving is only for Students and people under 30.
Coliving has become increasingly popular among the younger generation, especially millennials, as it addresses their unique needs and preferences in an ever-changing world. Millennials, known for their adaptability and desire for flexibility, are finding coliving to be a suitable solution that aligns perfectly with their lifestyle choices.
One of the key reasons why coliving appeals to millennials is the wide range of options available, including Unisex PGs. This allows individuals to choose the type of coliving space that best suits their preferences, whether they prefer living with people of the same gender or in a more diverse community.
Coliving spaces offer a range of benefits that resonate with millennials. Firstly, coliving provides a ready-made living solution that offers all the amenities and comforts of home. This eliminates the need for millennials to invest in a permanent property or go through the hassle of renting and furnishing an entire apartment. Instead, they can simply move into a coliving space that is already equipped with everything they need, saving them time, effort, and resources.
The flexible nature of coliving is particularly appealing to millennials, who often have multiple job opportunities and may need to relocate frequently. By choosing coliving, they can easily move to different cities or countries without the burden of selling or renting out a property. This freedom allows them to explore new opportunities and experiences without being tied down to a specific location.
Moreover, coliving spaces foster a sense of community and social interaction, which is highly valued by millennials. They provide opportunities to meet like-minded individuals, engage in shared activities and events, and build a supportive network. This sense of belonging and community is especially important for millennials, who prioritize connections and meaningful relationships.
Additionally, coliving spaces often offer added conveniences such as housekeeping services, maintenance support, and access to amenities like gyms, coworking spaces, and recreational areas. These amenities enhance the overall living experience and make coliving even more appealing to millennials.

5. Coliving is not for families and couples.
The misconception that coliving is not suitable for families and couples is being debunked as the concept of coliving evolves to accommodate a wider range of residents. While there may have been an initial association of coliving with single individuals or young professionals, the industry is now recognizing the needs of families and couples as well.
Coliving spaces, both in India and internationally, are embracing the inclusion of families and couples within their communities. These spaces understand the importance of creating an environment that supports and caters to the needs of different types of households.
Outside of India, coliving spaces have been more open to welcoming families and couples, providing them with the opportunity to live in a community-oriented environment while still having their own private space. These spaces often offer larger apartments or private rooms that are suitable for families, ensuring that they have enough room for comfortable living.
Moreover, coliving spaces designed for families and couples often include additional amenities and facilities that cater specifically to their needs. For instance, there may be child-friendly areas, playrooms, or outdoor spaces where families can spend quality time together. These amenities contribute to creating a family-friendly atmosphere within the coliving community.
Coliving spaces understand the benefits of community living for all residents, including families and couples. By welcoming families and couples, these spaces provide them with the opportunity to enjoy shared common areas, interact with neighbors, and engage in community events. At the same time, families and couples can also have their own private space to retreat to, ensuring a balance between socializing and personal privacy. Embracing the concept of coliving allows families and couples to experience a fulfilling and happy stay in co-live PGs.
Indeed, coliving draws inspiration from various historical and cultural practices of community living. The concept of living together and fostering communal harmony has been prevalent in different forms throughout history and across different cultures.
You May Also Like to read and explore Co-living spaces in Bangalore